If you are lucky enough to own Blue Ridge Mountain property, then you know that the views and natural surroundings are one of a kind. While it is easy to want to leave the decorating up to nature, there are some interior design tips that will help you make your home more comfortable and stylish. In this blog post, we will discuss some of the best ways to enhance your Blue Ridge real estate with interior design!
1: A neutral but warm color palette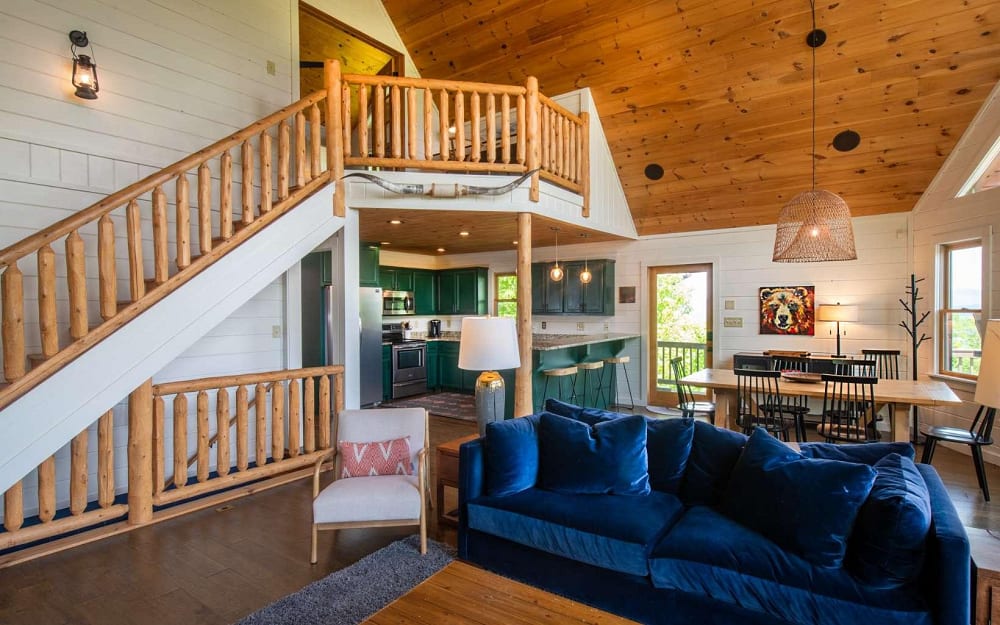 When tweaking the interior design of homes for sale in Blue Ridge, GA, think earth tones and jewel tones that will complement the natural surroundings. Of course, you can always add pops of color with art and accessories! Start with a base of beige, gray, and cream. You can also use earth tones like rust, sage, and ocher. These colors will give your home a warm and inviting feel.
2: Natural materials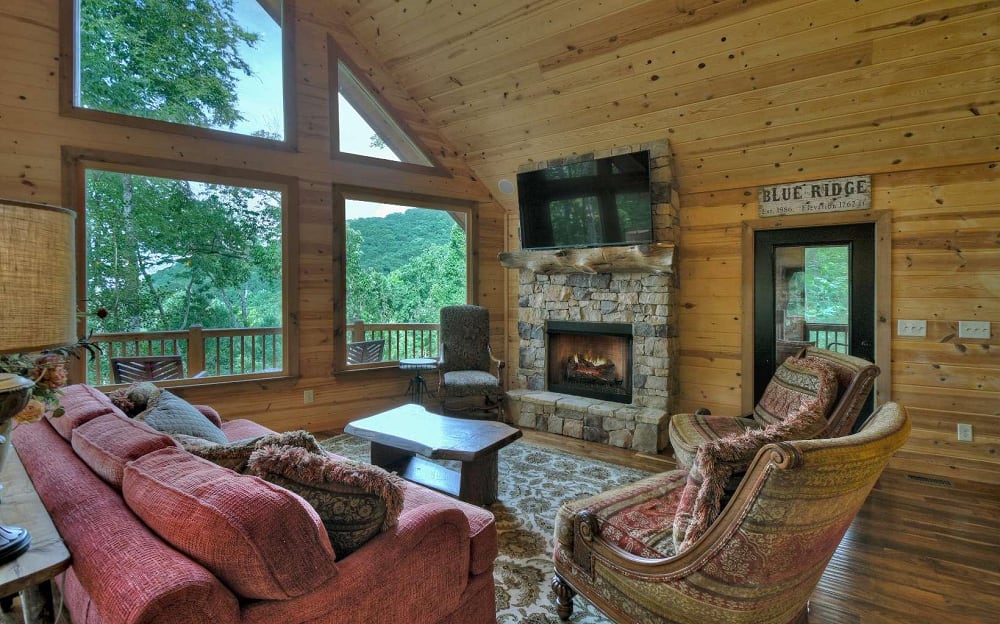 Use
materials
like stone, wood, and leather to give your Blue Ridge real estate a rustic but elegant feel. These materials will also help you create a seamless indoor/outdoor living space. One way to incorporate natural elements into homes for sale in Blue Ridge, GA, is by using stone and wood. Stone can add a rustic feel to any space, while wood can bring a touch of warmth. You can use these materials in a variety of ways such as incorporating them into your furniture or using them as accent pieces. This can be as simple as adding a few stone vases or sculptures, or as dramatic as installing a stone fireplace or wooden beams. As for leather, you can go big with a sofa or wingback chair, or go small with a throw pillow.
3: Large coffee table
A large coffee
table
can help to anchor the living room in homes for sale in Blue Ridge, GA. This will help to create a focal point in the space and can make the room feel more inviting. By placing a large coffee table in your living room, you can make it feel more comfortable and stylish. It provides the perfect place to display your favorite books, magazines, or art. It can also be used as a footrest after a long day of hard work or exploring the outdoors! Choose a coffee table with interesting details like carved legs or inlaid wood. You could also choose a multi-functional option that has storage or seating.
4: Leather armchairs with sleek lines
While rustic materials are common in Blue Ridge real estate interior design, another popular option is modern furniture. A few leather armchairs with sleek lines will help balance out the roughness of natural materials. Choose options that are upholstered in rich, buttery leather that begs to be touched. Sit back and relax in one of these chairs, and you will be transported to a world of luxury and comfort. These chairs can be used in a living room or office, and they provide a comfortable place to relax and enjoy stunning views.
5: Multiple textures
When designing mountain homes for sale in Blue Ridge, GA,
texture
is important for several reasons. Firstly, it can add visual interest to a design. Secondly, it helps to create a more realistic three-dimensional effect. Finally, it can add a sense of tactile interest and appeal to a design. Use plush throws, wool rugs, linen curtains, and velvet pillows to add texture to your space. Play with different patterns and textures to create a unique look that is all your own.
6: Statement lighting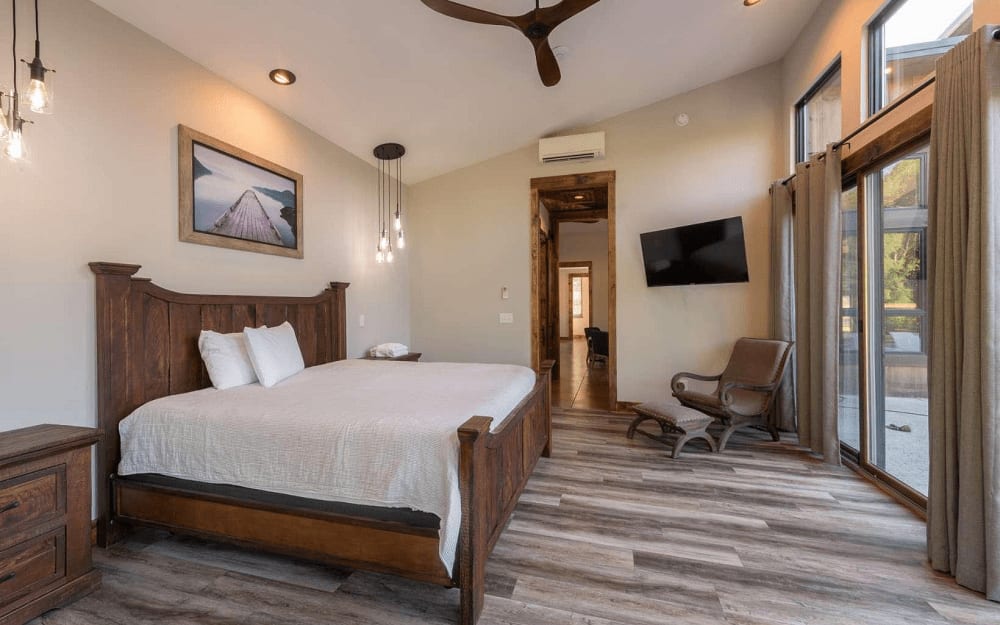 Lighting is key in any interior design, but it is especially important in mountain Blue Ridge real estate. Since these homes are often located in remote areas, they need to be well-lit to ward off the darkness. Choose statement lighting fixtures that will make a bold impact and provide ample light. Chandeliers, floor lamps, and table lamps are all great options. Chandeliers are a classic option that can add a touch of elegance to any room. Floor lamps are a great way to add more light to a room, and table lamps can be a nice addition to any space.
7: Embrace hygge
The Danish concept of hygge (pronounced "hoo-gah") is all about creating a pleasant and comfortable atmosphere. This is the perfect mindset for mountain living in Blue Ridge real estate! To embrace hygge, start by decluttering your home and getting rid of anything that doesn't fill you with the "warm fuzzies." Then, focus on adding soft lighting, comfortable furniture, and simple but meaningful decorations. Finally, don't forget the importance of family and friends! Cozy up with your loved ones in your mountain home. Revel in the peace and quiet of your natural surroundings. Enjoy being surrounded by the people you care about.
8: Hidden hardware and appliances in the kitchen
One of the best ways to achieve a clean and modern look in your kitchen is to hide your hardware and appliances. This can be done with cabinets that have sleek lines and hidden hinges, or by using paneled appliances. Whatever route you choose, hiding away these items will give the kitchen in your Blue Ridge real estate a polished look.
9: Splurge on a decadent bathtub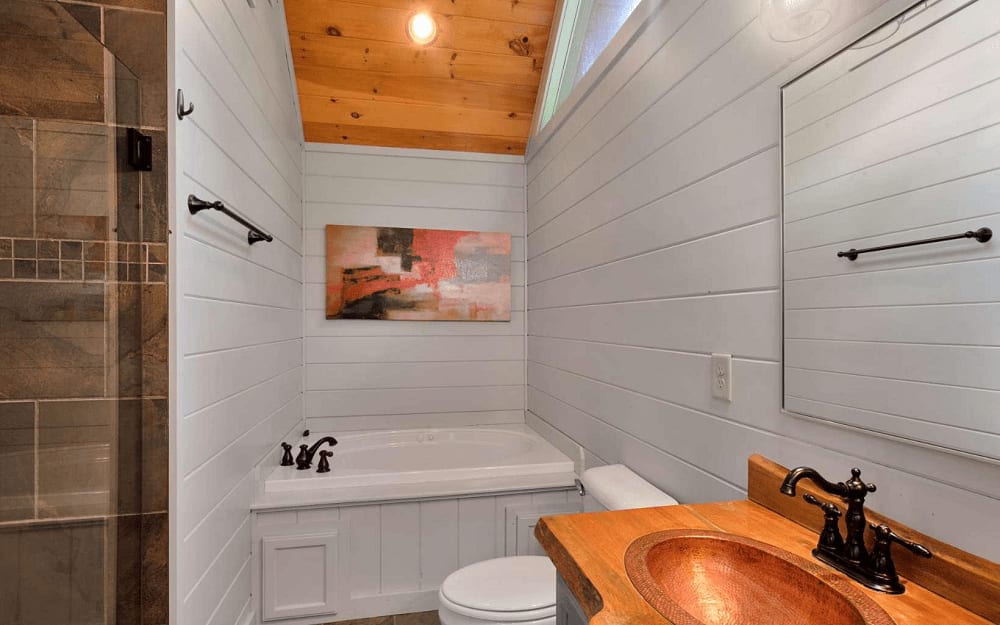 After a long day, there's nothing better than soaking in a bathtub. When you want to truly relax, splurge on a decadent tub that has all the bells and whistles. From soothing jets to built-in speakers, this kind of investment will transform your at-home spa experience. Plus, who doesn't love a good excuse to buy bubbles and bath bombs? Look for features like built-in lighting, jets, and heated seats. You could even install a TV so you can relax and catch up on your favorite shows.
Whether you want to embrace the mountain lifestyle with rustic decor or you prefer a more modern look, there are plenty of ways to incorporate interior design into your Blue Ridge real estate. Use these tips to get started, and be sure to have fun with them! Remember, there is no right or wrong when it comes to design — it's all about what you love. So, go ahead and experiment until you find the perfect style for your home. Blue Ridge real estate is a great investment, and with the right interior design, your home will be a place you love coming back to again and again. If you're looking for Blue Ridge real estate,
Laura Elleby
has you covered.