Aska, Georgia, is a wonderful place to get away from it all and enjoy the great outdoors. There are plenty of outdoor activities to keep you busy during your stay in the Blue Ridge Mountains, and even more so if you decide to invest in Blue Ridge real estate. Whether you're looking for a relaxing weekend cabin rental, an action-packed adventure, or a Blue Ridge cabin to call home, Aska has something for everyone. Here are our top five ways to enjoy the outdoors near Aska!
1. Hike the trails
Appalachian Trail
As arguably one of the best-known trails in the United States, the
Appalachian Trail
is a must-do for hikers who are staying in a Blue Ridge cabin or looking for Blue Ridge real estate. The trail spans over 2,000 miles from Georgia to Maine, but there are plenty of sections that can be tackled in a day or weekend. Hiking the entire trail is usually a six-month adventure across 14 states, but if you want to stay in-state, you can enjoy almost 80 miles of the trail before it reaches North Carolina. The trailhead at Springer Mountain is just under 16 miles from Aska, Georgia, and local Blue Ridge real estate. For a shorter hike along the trail, there's a 3.7-mile distance between Three Forks and the Springer Mountain trailhead. For an even easier hike, check out the 1.1-mile trail at Long Creek Falls.
Benton MacKaye Trail
Another popular long-distance trail near Aska, Georgia, the
Benton MacKaye Trail
stretches nearly 300 miles across the southern Appalachian Mountains and is known for its stunning views of wildflowers and trees. The trail is especially popular with Blue Ridge residents in the spring and fall. To remain in the state while hiking this trail, you can enjoy approximately 80 miles of this scenic hike before it crosses state lines. The trail starts at the same trailhead on Springer Mountain as the Appalachian Trail, and the two cross paths four times in the first 7 miles of the Benton MacKaye Trail but part ways at Long Creek Falls.
Flat Creek Loop
Another popular trail for viewing wildflowers, the
Flat Creek Loop
, which is near many Blue Ridge cabins, covers 6 miles and is appropriate for newbie and advanced hikers alike. The trail is also popular among leisurely walkers and mountain bikers. Flat Creek Loop is a favorite for the local club and school nature trips.
Green Mountain Trail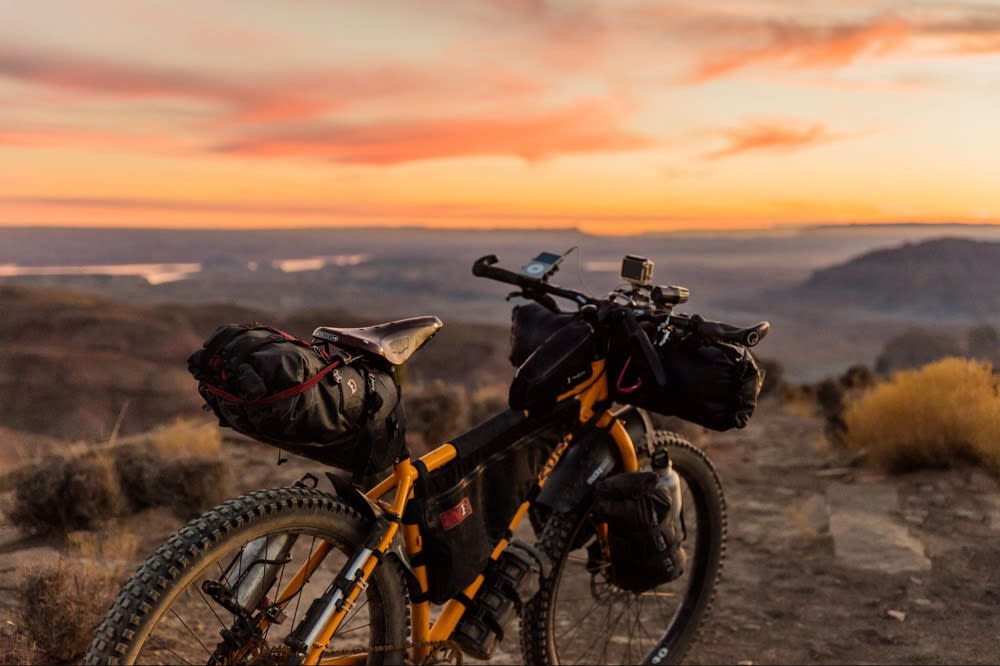 For a quiet and leisurely loop near local Blue Ridge real estate, check out the
Green Mountain Loop
, a nearly 3-mile trail that is perfect for hikers of all skill levels. The trail is also popular with mountain bikers.
Long Branch Loop
Another short trail perfect for hikers of all skill levels, the
Long Branch Loop
, near many Blue Ridge cabins, covers just under 2.5 miles. This is also a popular area for mountain biking.
Stanley Gap Trail
For a more moderate hiking adventure, try the
Stanley Gap Trail
, which goes out and back across 9.5 miles and usually takes under five hours to complete. The trail is especially popular in the winter months for the stunning views from the mountains. Head out with your binoculars to bird-watch along your hike, and consider bringing your pup with you, as long as they remain on a leash!
2. Have fun on the water
Lake Blue Ridge
If you enjoy fishing, swimming, kayaking, or canoeing, a visit to
Lake Blue Ridge
, near plenty of Blue Ridge real estate, is sure to please! Gear can be rented nearby, or you can bring your own. The lake is nearly 3,300 acres in size and has shoreline entries perfect for sunbathing, picnics, and relaxing while enjoying the scenic view. Visitors can also enjoy pontoon boat rentals, paddle boarding, and even water-skiing! If you are looking to enjoy water sports, you really should check out this lake, which is close to many Blue Ridge cabins!
Toccoa River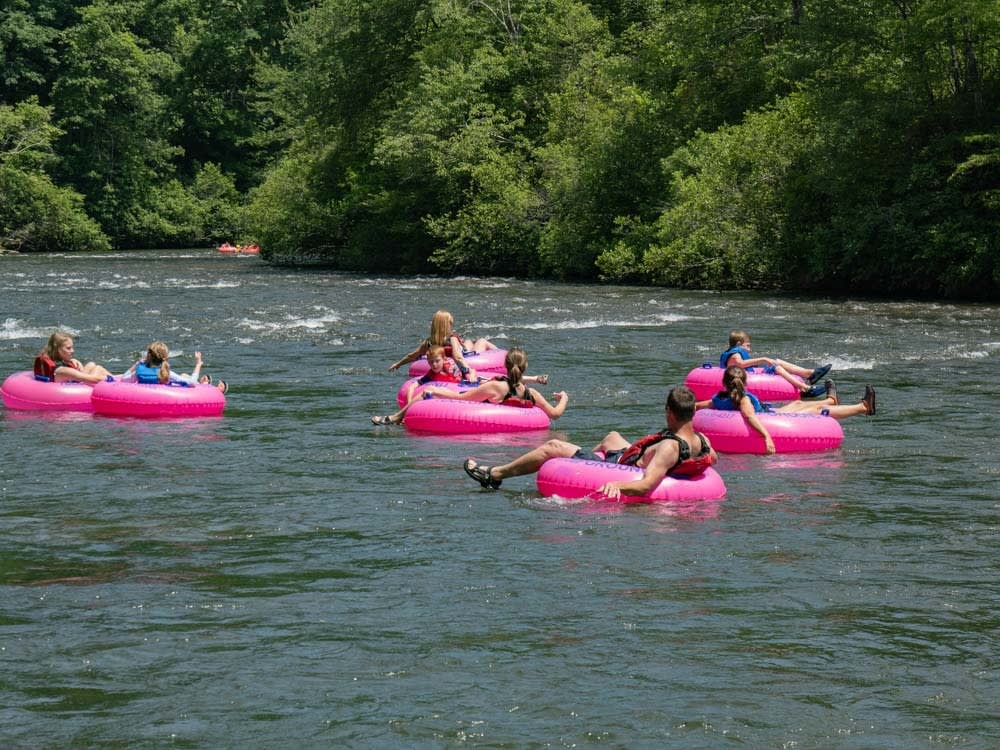 Photo courtesy of Toccoa Valley Campground
Another popular location for water sports near the real estate in Blue Ridge, the
Toccoa Valley Campground
is a great place to visit to experience all the fun the Toccoa River has to offer. Families especially enjoy renting the signature pink inner tubes to float down the river. Rafting and kayaking are also popular along this river. The campground opens for the season on May 2, and river activities resume on May 20.
3. Visit Lilly Pad Village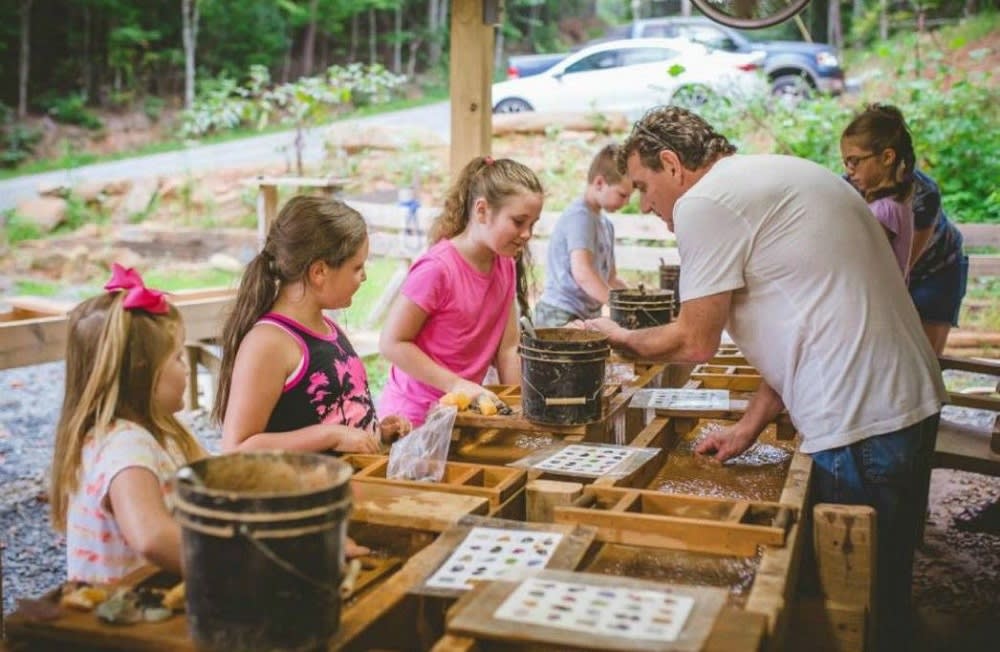 Photo courtesy of Georgia Mountain Cabin Rentals
If you have kids, you won't want to miss a visit to
Lilly Pad Village
, close to many of the cabins in Blue Ridge. Your young rockhounds will enjoy gem mining here, and families also get a kick out of the mini-golf experience. The area is also a great spot for fishing and hiking. The village is very popular and draws over 25,000 visitors annually. Pack a lunch, and enjoy it at the provided picnic area. Your pup is welcome to join this family outing, as long as they remain on a leash!
4. Enjoy fruit picking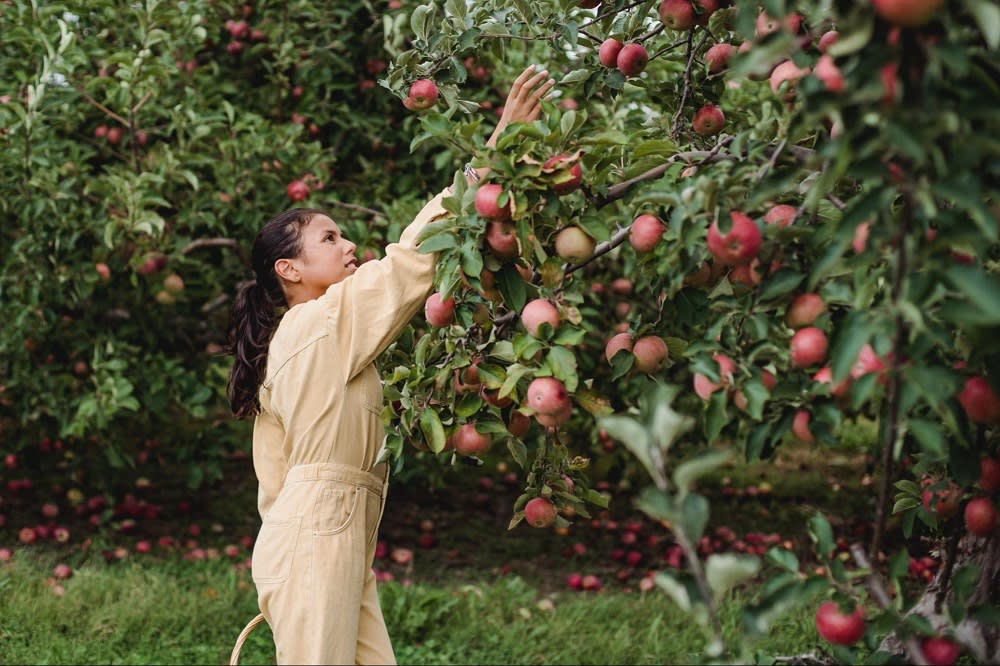 For a fun, family-friendly experience close to great Blue Ridge real estate, head to nearby
Mercier Orchards
, which has been welcoming guests for 75-plus years! Although you can definitely enjoy shopping for treats at the bakery and deli or the candy kitchen, the most fun to be had is picking your own fruit! The orchard has blueberries, apples, blackberries, strawberries, and peaches you can pick when they are in season. Kids also enjoy the orchard tractor tour, and adults can sample wine in the orchard's tasting room.
5. Enjoy a guided horseback-riding tour
Anyone interested in horseback riding is sure to enjoy an outing with
Appalachian Trail Rides
, which offers guided excursions for riders of all skill levels. Kids age six and older are welcome to join the family-friendly tours. Don't worry; the horses your little ones will be riding are friendly and gentle, so this is a great way to introduce your kids to the joy of horseback riding!
Begin your search for Blue Ridge real estate
With hiking trails, beautiful waterways perfect for fishing and paddling, a charming fruit-picking destination, and guided horseback-riding tours available, there's something for everyone in this corner of North Georgia. And if you're interested in calling a piece of Blue Ridge real estate home, be sure to reach out to
Laura Elleby
to discuss the homes for sale in this wonderful area.