Explore the Mountaintops and Valleys of the Peach State to Soak Up the Colors of Late Autumn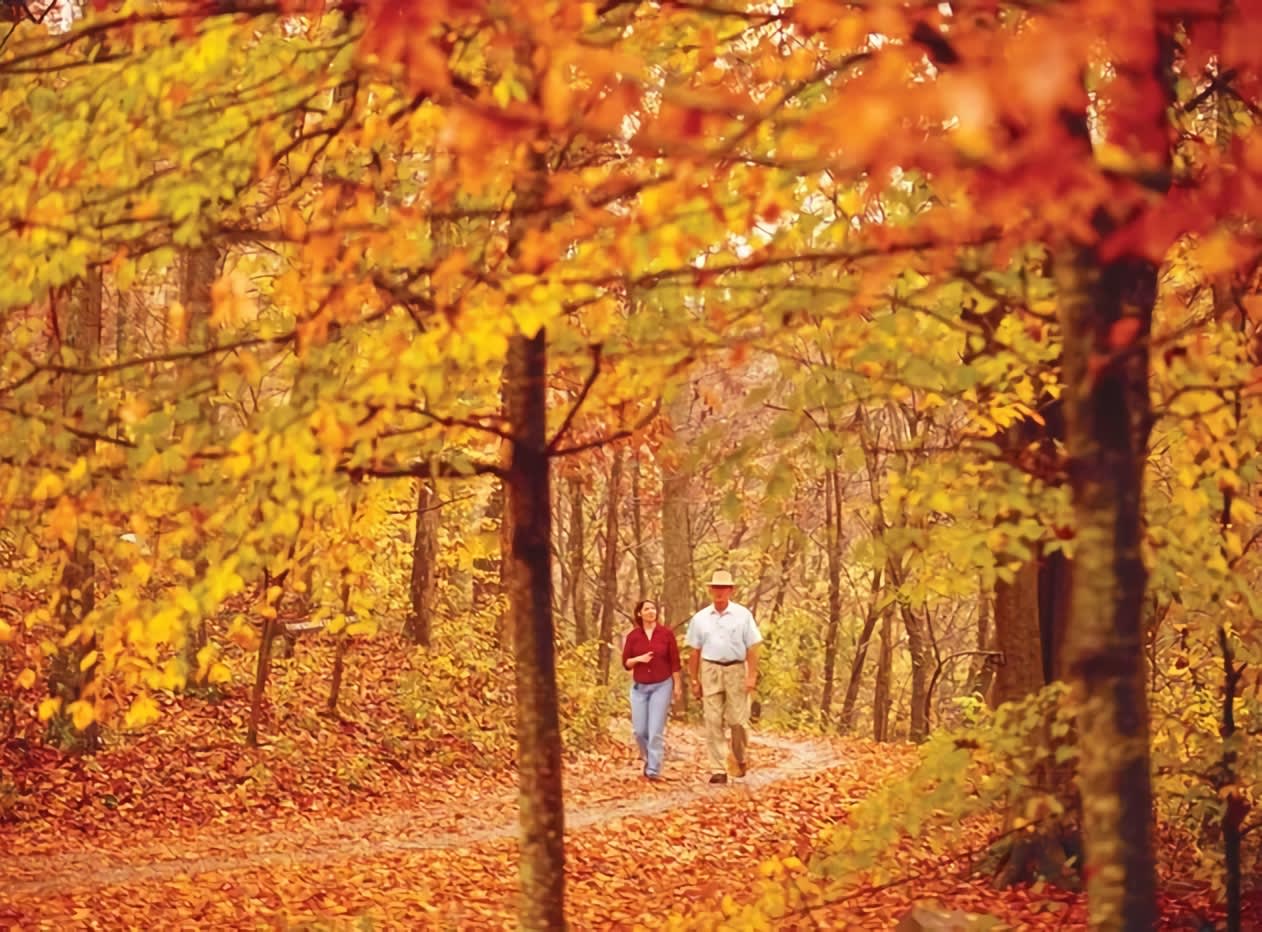 Music Mix: Crimson Moon
"Home to You"
"Come in My Kitchen"
"Beyond the Mountain"
"Life"
"Beautiful Wreck"
"Voodoo Morning"
"Are We There Yet, Mama?"
"Stay"
"Hometown Boy"
"Wanderer"
"Willow Tree"
"Laughin"
"I Sang to the River"
"Rodeo Around the World"
I can't resist fall drives. It's the time of year I like to roll down the windows; crank up some tunes; and breathe the cool, energizing air. Best of all? The ever-changing scenery in our postcard-perfect mountain region. Check out these spots across Georgia's rooftop to grab the last fleeting moments of autumn.
1. Best Drive: Chatsworth to Ellijay on State 52
Cruise down into Ellijay for a stroll around the square chockablock with antique shops. Before heading out, find the hill of personalized pig signs Colonel Poole's Barbecue to indulge in a chopped pork sandwich. Ellijay, Gilmer County Chamber of Commerce: www.gilmerchamber.com or
(706) 635-7400
. Colonel Poole's Barbecue: www.poolesbarbq.com or
(706) 635-4100
.
2. Best Music: Crimson Moon Café, Dahlonega
Amble into the cafe, a former general store from the 1850s. Sure, good food and drink await, but go for the music. On Sundays, the Mountain Music String Pull jam session makes toe-tapping tunes. Closed Tuesdays;
The Crimson Moon
or
(706) 864-3982
.
3. Best Outfitters for a Trek: Mountain Crossings at Walasi-Yi, Neel's Gap (U.S. 19)
The only indoor portion of the Appalachian Trail traverses the middle of this stone 1937 CCC building. I come here for hiking gear and supplies as well as local arts and crafts.
Mountain Crossing
or
(706) 745-6095
.
4. Best Road for Local Art: State 197 North
Hop on this scenic byway in Clarkesville and follow the Soque River to Lake Burton. Don't-miss stops Mark of the Potter for pottery and several gargantuan pet trout that like to be fed, and Cindy Angliss's Hickory Flat Pottery studio and gallery. Mark of the Potter: www.markofthepotter.com or
(706) 947-3440
.
Hickory Flat Pottery
or (706) 947-0030.
5. Best Georgia Wine With a View: Frogtown Cellars
Damascus Church Road (about 10 minutes from the end of State 400) leads to a handsomely constructed winery. Perched atop a hill, Frogtown overlooks 45 acres of 15 grape varieties. Inclination, a white blend, is my favorite.
Frog Town Wine
or
(706) 865-0687
.
6. Best Coffee Stop: L&L Beanery, Blue Ridge
Settle into a seat by the fire at this 1920s bank-turned coffee shop. Owners Jim and Lynda Thompson value their coffee so much, they stash it in the vault. On weekends, jazz piano players add to the atmosphere.
(706) 632-3242
.
7. Best Picnic Spot: Warwoman Dell, East of Clayton
A secluded forest provides shady tables in this valley. Rhododendrons line the gurgling Warwoman Creek. A half-mile trail leads to Becky Branch Falls, and a spur of the Bartram Trail passes through Warwoman Dell. Chattahoochee-Oconee National Forests:
US Forest Service
8. Best Bridge Crossing: Tallulah Gorge State Park
Visit after the park releases water through the gorge. Walk onto the suspension bridge that hangs 80 feet above the canyon floor, close your eyes, and move with the wind. Channel Carl Wallenda's courage from when he walked on a tightrope across the canyon decades ago.
Gastate Park
or [706] 754-7970.
9. Best Waterfall Hike: Cloudland Canyon State Park, Lookout Mountain
This lesser-visited area pokes out along a gorge cut by Sitton Gulch Creek. The rim trail has wondrous views, but take the challenge of the stair steps down to the two waterfalls on the gorge's side.
Gastate Park
or
(706) 657-4050
.
10. Brightest Blossoms: Russell-Brasstown Scenic Byway Overlooks (State 348)
Not all of fall's palette is displayed on the trees. Sure, pullouts on a popular winding road offer spectacular vistas of autumnal splendor. But check out the masses of wildflowers planted at these parking lots.
By Ways
10 North Georgia Surprises" is from the November 2007 issue of Southern Living. Because prices, dates, and other specifics are subject to change, please check all information to make sure it's still current before making your travel plans.